Keep Your Print Standards High & Stress Levels Low!
Thousands of professional and keen enthusiast photographers around the world receive our telephone and online support. From our experience and customer feedback, we have highlighted four key areas that you need to be aware of to keep your print standards high and frustration levels low!
1) Checking Your Print Quality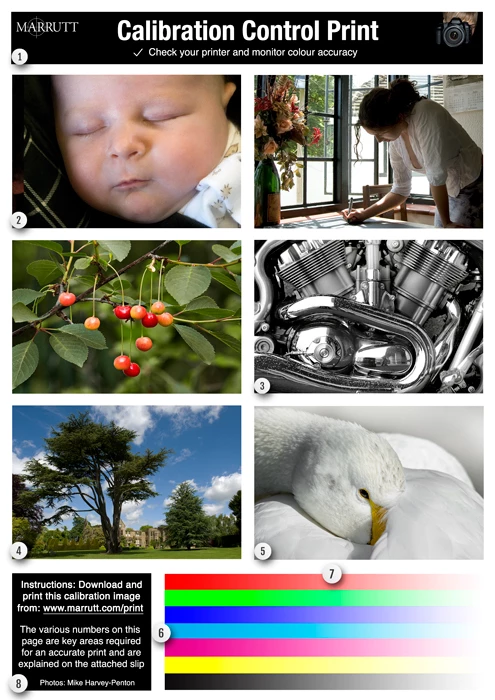 Download and print our free colour and black & white calibration image (right), does your print show …
1. A good rich black?
2. A clean pure white point? (paper tone).
3. Correct colour saturation?
4. Smooth colour graduations?
5. Accurate neutrals?
6. Correct density?
7. Correct contrast?
8. Crisp, accurate reproduction?
9. Consistency in repeat prints?
10. Reliable printing over time?
…Instantly download a checking JPEG to print out, and we can send you a FREE A4 accurate calibration print, to compare your print to our own.
All regular Marrutt customers are entitled to FREE custom printer profiles at any time, so if your printer colour accuracy is not up to scratch, contact us to re-profile immediately.
2) USB vs Wireless

When should you use Wi-Fi and when should you use a cable?
Recent telephone and online chat technical support conversations are detecting a new trend in the way inkjet printers are being used:-
Many new wi-fi compatible inkjet printers are being connected up via wireless internet only, with no USB or Ethernet printer cable connection at all!
This configuration works fine for smartphone image printing, up to (say) 5″ x 7″ to an acceptable standard, but to achieve full image print quality to professional colour and black & white level, you must connect your printer via USB cable or firewire if available.
We have seen a number of customers trying to create a custom profile test target via a wi-fi printer connection! Ensure that you use printer cable connection, and that you use a printer driver installed via a cable, NOT via wi-fi.
3) Smartphones vs DSLR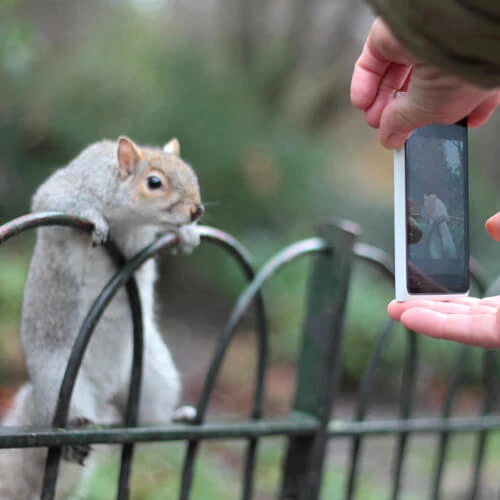 On screen, a photo from a smartphone looks as good as a photo from a DSLR so surely the print will be the same …
The latest generation of smartphones really do appear awesome, and appear to pose a real threat to the digital photography status quo BUT – keep things in perspective (!)…..
Marrutt use the very latest iPhone 7 plus with maximum available features, and yes, for stills and 4K video on webpages it is truly impressive. Printing up to 5″ x 7″ to demo our deep strut mounts or desktop self-adhesive blockmounts is great….BUT
Once we attempt to print to professional colour or monochrome at 10″ x 8″ to A2, we revert to our Canon 5D MK III.
Comparing image outputs on the computer monitor shows little difference – viewing at 72ppi brings both images down to a low average.
Printing out on a custom profiled printer at A4, A3 or A2 to 5760dpi (no high speed) reveals the significant quality image – the larger you print, the bigger the difference.
So in addition to the advantages of the hugely superior optics (lenses) and control advantages of your DSLR, for print output higher than 5″ x 7″, at present, in our opinion, the DSLR wins hands down!
4) 10 Common Inkjet Printing Mistakes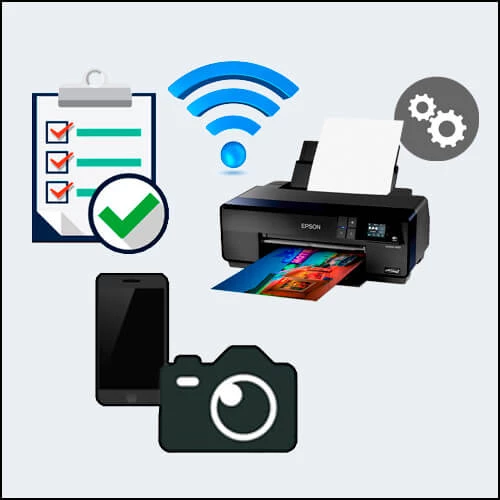 From the materials you use to the handling of your finished print, avoid these common pitfalls …
1. Running out of ink – check and top up your inks every week.
2. Printing without first running a nozzle check – check your printer at least once a week.
3. Printing with an out of date custom profile – if your printer profiles are over 6 months old, check you printing accuracy against our colour-checker print, and re-profile if required.
4. Printing too fast – We always print on the highest resolution available, with no high speed. Faster printing is fine for big production jobs, but watch your print quality when a faster print speed is selected.
5. Over-sharpening or over-adjusting in PhotoShop / Lightroom – Don't fall into the trap of unsharp masking until your image looks sharp on your monitor – they all look soft at 72ppi! Also remember that many monitors are sluggish to respond to fine subtle adjustments, and often encourage you to over-adjust!
– try printing out an un-adjusted image straight from your camera – you should be pleasantly surprised with the clarity and accuracy of your image!
6. Handling your prints too soon after printing – allow a few minutes for your prints to settle.
7. Leaving your inkjet paper box open – preserve the correct water content and eliminate dust by replacing your paper box lid between printing sessions.
8. Keep you ink funnels and syringes clean – immediately after use, wash out with running tap water until the water runs clear, air dry, then store in a dust-free container.
9. Close you inkjet printer covers after printing, and put a dust cover over your printer overnight (sheet of bubble-wrap is ideal for this).
10. Don't use old or out of date materials or equipment – check your dates on inks, and don't be tempted to use very old, faded inkjet papers. Do not make this common mistake; If your old printer fails to provide reliable, professional quality prints after basic maintenance, rather than spend on an expensive repair, seriously consider replacing this with a new model. There will be a good chance that once an older printer is repaired, an unrelated area of the printer will go wrong soon after. Modern Epson printers represent great value, often with full large capacity ink cartridges included in the price. Provide some brief requirements (type of printing, size of prints etc) below and we will provide recommendations.
Disclaimer:
The above represents opinions and customer feedback only, and is subject to the usual caveats; if you have alternative advice or extra information for us, please use the feedback forms above.