About Marrutt Professional Photographic Inkjet Inks
Marrutt Pro Photo Pigment Inkset
Image performance and longevity fully tested and approved – many of the world's finest commercial photographers make use of the Marrutt Pro Photo pigment ink every day, producing great work in colour and monochrome while making excellent savings.
Fine ground pigments allow you to produce excellent gloss and lustre prints with minimal sheen differential (bronzing), and three dedicated monochrome channels enable you to produce stunning neutral monochromes of excellent smooth graduation with negligible metamerism. When custom profiled, this inkset represents a marked improvement on the standard OEM inkset performance in both colour and monochrome.
Find your printer below …

Supported Epson SureColor Printers ...
Supported Epson R Series Printers
Supported Epson Large Format Printers
About Marrutt Professional Photographic Inkjet Inks
Marrutt Pro Dye Based Inkset
Exceptional printing quality with stunning vibrancy! The popular dye-based Marrutt Professional Photographic Inkset provides a good colour match to Epson "claria" inks (also dye-based) and exhibits vivid colours, good rich blacks and a superb high gloss.
In common with the OEM product, this six channel dye inkset comprises Black, Cyan, Light Cyan, Magenta, Light Magenta and Yellow.
  Find your Printer Below …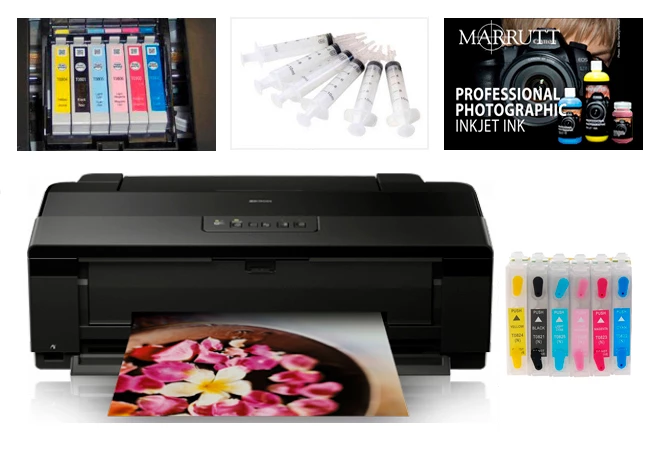 Supported Epson Stylus Photo Printers