The Marrutt Matt papers provide amazing image vibrancy and tonal range in monochrome and colour images on their reflection-free finish. The matt papers are "fine art quality", pulp based with an instant dry coating.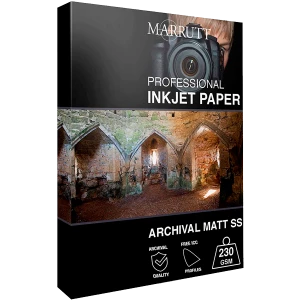 Superlative archival fine art coating on heavy 230gsm acid-free clean white base. Low friction rear surface allows easy and continuous multi-sheet paper feeding.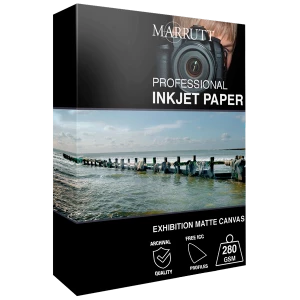 The Marrutt 260gsm Exhibition Polyester Matt Canvas has a bright white, smooth matt surface and tight weave pattern producing pin sharp images both in colour and black & white.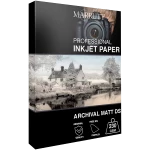 Magnificent, economical double-sided heavy-weight matt paper with a Fine Art reproduction quality.
With clean whites and a subtle sheen, these semi-gloss papers provide superb results with every print!
From the pure white Satin papers to the heavyweight and impressive Pearl paper, these semi-gloss papers are perfect for all types of photo printing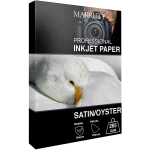 With a pure, ultra white base for clean whites and widest tonal range, this is a resin based photographic inkjet paper with a satin finish.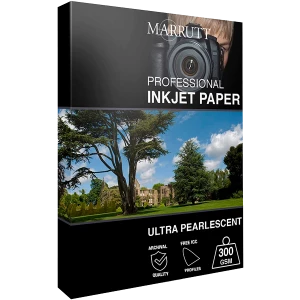 Heavy photographic weight, with an improved sheen level and pronounced pearl texture finish. Ultra white base for clean whites with excellent Dmax.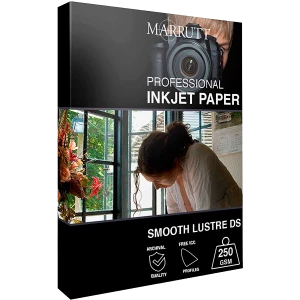 Resin based photographic inkjet paper. Coated on both sides for Albums, Photobooks, Greetings Cards etc. It has a beautifully super-fine light textured surface with a pleasant sheen.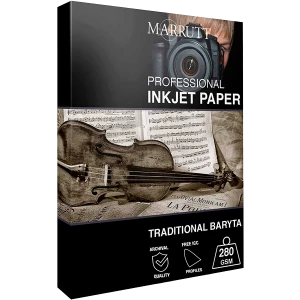 This Baryta paper has a neutral white base that exhibits deep rich blacks and maximum tonal range. It has a superb darkroom fibre-based appearance and is compatible with pigment and dye based inks
For stunning high gloss printing with vibrant colours and clean whites. These gloss papers give you image a real punch to rival the best darkroom produced RC photograph.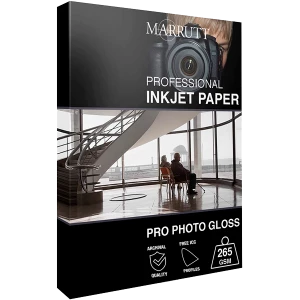 This is a resin based glossy photo paper and has an impressive white base and glossy emulsion.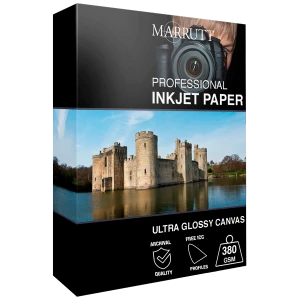 This canvas has a high gloss finish that maximises the colour gamut giving your images a real punch!
Create the ultimate fine art print with this luxurious finishes that are used by top professionals world wide. The Marrutt Fine Art papers produce superb Fine Art reproduction and are fully longevity and stability tested for gallery and museum standards.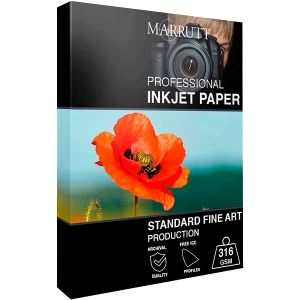 This 100% cotton rag fine art paper has a soft grain texture to give you printed artwork a classic look and feel. With a mould made base and natural white finish, the affordable Standard Fine Art Production paper provides an excellent colour gamut and impressive d-max.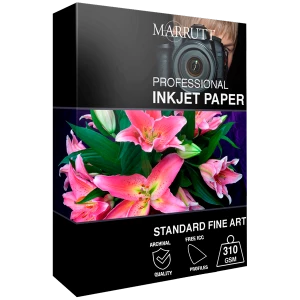 One of the most popular fine Art inkjet papers in our collection. It is smooth surfaced and is warm white/cream in appearance.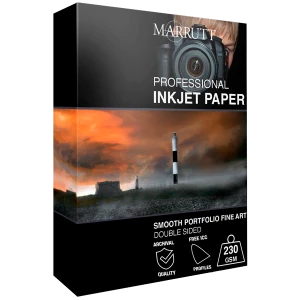 Ideal for creating your own photobooks, albums or portfolios, the double-sided Marrutt Smooth Portfolio Fine Art is a high white, ultra smooth and luxurious inkjet paper.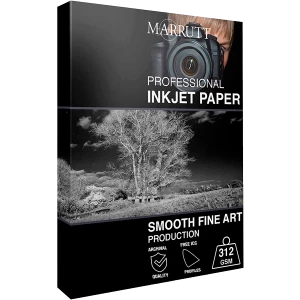 This impressive fine art paper has a 100% cotton rag base with a premium etching coating, which provides a movement and aesthetic warmth to your artwork expected with traditional fine art techniques.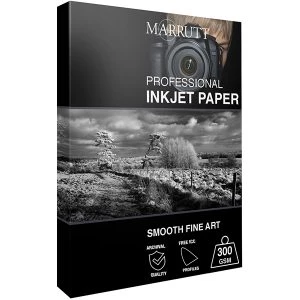 This popular Fine Art paper is smoother and whiter than Standard Fine Art and is 100% cotton rag base. Ideal for wedding albums and produces breathtaking monochrome and colour.