From £25.95 (£21.63 Excl VAT)
Genuine Epson SureColor SC-P700 Ink Cartridges
Pound sterling (£)

Euro (€)

United States dollar ($)

Australian dollar ($)

New Zealand dollar ($)

Order now for
Saturday
shipping
(UK only)
Time left to order ...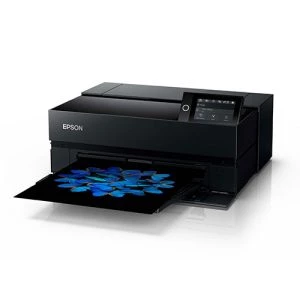 About this Inkjet Printer
The popular Epson SureColor SC-P700 is a high quality A3+ photo printer capable of producing the finest quality colour and monochrome archival photographic prints.
Its impressive features include its ability to automatically switch between Matte and Photo Black, its wi-fi connectivity and the hi-capacity ink cartridges.
This desktop printer has several advantages over its predecessor (The Epson SureColor P600), noticeably the improved user friendly touch screen, easy MK to PK ink changeover and the new Violet ink.
The cartridges sets for the SC P700's contain T46S1 – PK, T46S2 – CY, T46S3 – VM, T46S4 – YE, T46S5 – LC, T46S6 – VLM, T46S7 – LK, T46S8 – MK, T46S9 – LLK, T46SD – Violet.
For complete sets and individual cartridge prices plus ordering info, 
CLICK HERE
to return to the top of the page