From £14.95 (£12.46 Excl VAT)
Marrutt Individual Refillable Cartridge/Ink Kits for Epson 4800
Pound sterling (£)

Euro (€)

United States dollar ($)

Australian dollar ($)

New Zealand dollar ($)

For shipping
today
, order in the next:
Marrutt Photographic Pro Refillable Cartridge/Ink Kits for Epson 4800
Convert Your Epson 4800 Printer To Bulk Ink One Colour At A Time!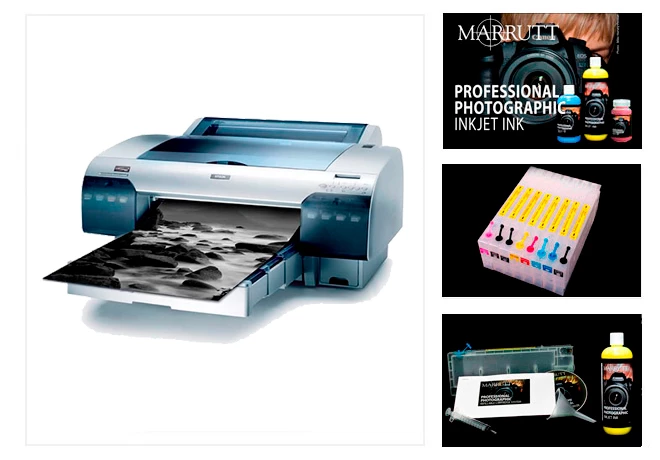 A Cartridge/Ink Kit Includes: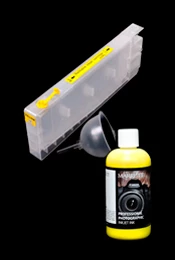 Marrutt Pro Photo Pigment Inkset
Manufactured in the United States, our own-brand inkset is gives significant savings over OEM cartridges without compromising on print quality.

The Marrut Pro Pigment Inkset provides professional photographic colour performance with excellent black and white print quality with impressive longevity and stability.
Cartridge Installation / Re-fill is Quick and Simple...
STEP 1: Take out filler plug and fill the cartridge with the correct colour ink with at least 220ml of ink using the funnel provided.
STEP 2: Re-insert the filler plug firmly.
STEP 3: Use the syringe & adapter, gently insert into the ink outlet port of the cartridge.
STEP 4: Draw back on the syringe to withdraw 1-2ml of ink to prime the cartridge. (This process is only required after the first fill)
STEP 5: Insert the cartridge into the printer. Then repeat this process (steps 1-5) for each cartridge.
STEP 6: During printing, when the ink level reaches the low ink mark on a cartridge, take out the cartridge from the printer fill with ink using the funnel and reset chip using the chip re-setter supplied. Re-insert cartridge.
(STEP 1, 2, 3, 4 & 5 = INITIAL INSTALL, STEP 6 = RE-FILL)
About the Marrutt Refillable Cartridges For Epson 4800
The Marrutt Refillable Cartridges are 220ml in capacity, carry a 1 year warranty and provide extremely reliable ink flow. They come with auto reset chips and all cartridges are see-through to allow easy recognition of low ink levels.
The cartridges come complete with refilling syringes, funnels and full illustrated installation instructions. See below for the basic six-step install/filling guide
The Marrutt Refillable Cartridge System gives reliable, continuous bulk ink delivery – simply fill each cartridge with Marrutt Professional Inks and start printing.
The ink status monitor will show the ink levels decreasing as with brand OEM cartridges.
When the status monitor indicates a cartridge needs changing, simply take out the refill cartridge in question, top up with ink and then re-insert.
When the cartridge is replaced, the front panel indication will display a full cartridge.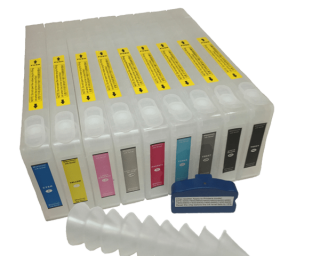 Use Alongside OEM Ink Cartridges
No need to discard partly used cartridges … The refillable cartridges filled with the Marrutt Professional Photographic bulk ink can be installed one at a time alongside the OEM cartridges with negligible change to colour output.

With the same dimensions and volume as the OEM cartridges, the refillable cartridges filled with the Marrutt bulk ink can be installed one at a time alongside the OEM cartridges with minimal change to colour output.

For users with colour profiling equipment and the more critical photographer, the Marrutt refil cartridges can be installed alongside OEM cartridges with short-term profiles created as each cartridge is introduced to maintain optimum print quality.