From £29.95 (£24.96 Excl VAT)
Marrutt Photographic Pro Inkjet Ink for Epson R1900
Pound sterling (£)

Euro (€)

United States dollar ($)

Australian dollar ($)

New Zealand dollar ($)

For shipping
today
, order in the next:
About the Marrutt Photographic Pro Inkjet Inks for this Printer
Marrutt Professional Photographic Pigment Inkset
Image performance and longevity fully tested and approved – many of the world's finest commercial photographers make use of the Marrutt Pro Ink every day, producing great work in colour and monochrome while making excellent savings. In common with the OEM product, this eight channel pigment inkset comprises Matte Black, Photo Black, Cyan, Magenta, Yellow, Red, Orange and Gloss Optimiser.

Marrutt Pro Photo Ink: Exceptional Printing Quality and Reliability
Optimised for colour printing, this inkset combination uses the extra Red and Orange channel to enhance the colour range available, and the Gloss Optimiser lays down a clear layer over the areas of the print, which are lightly coated in ink or have no ink application at all, to produce a uniform sheen level, minimising bronzing. The Gloss Optimiser feature is usually turned off when printing on matt materials.

When custom profiled, this inkset represents a marked improvement on the standard OEM inkset performance in both colour and monochrome.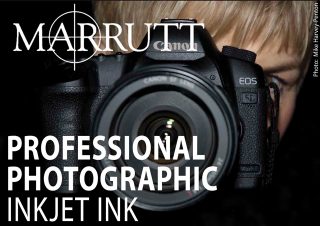 Features and Benefits of this Inkset
High Intensity Colours: Produces a colour gamut equivalent to that produced by the OEM ink product.
High Black Density: Produces deep rich blacks on a wide variety of inkjet papers. Images have "punch" and good contrast..
Superior Gloss Control: All shades of tone from highlight to shadows have the same gloss level. This reduces the "matting down" of black areas seen with cheaper formulations. The Marrutt Photographic Inkjet bulk inkset produces a more even finish on high gloss and satin papers.
Full Profile Support Available: Basic level printing is plug and play, plus free custom profiles fro your favourite Marrutt Inkjet Papers.
When used with the Marrutt Refillable Cartridge or Continuous Ink System, users experience over 80% saving on ink costs when compared with using OEM cartridges. These bulk inks are available in a variety of sizes – please see the replacement ink section above.
Certified 75 year longevity with excellent image stability and durability.
For complete sets and individual refill prices plus ordering info, 
CLICK HERE
to return to the top of the page